I made this coffee cake for our (very late) breakfast this morning. Tall, moist and lightly spiced, I can see it quickly becoming a new favorite.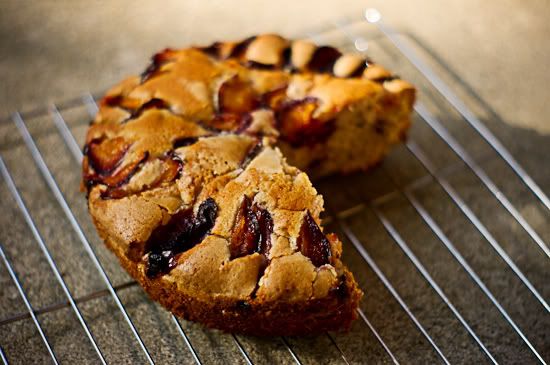 Plum Coffee Cake
Peaches can be substituted for the topping.
- 4 tbl. unsalted butter, room temperature
- 1 cup flour
- 1/2 tsp. baking powder
- 1/4 tsp. baking soda
- 1/8 tsp. salt
- 1/2 tsp. cinnamon
- 3/4 cup plus 2 tablespoons sugar
- 1 large egg
- 1/2 cup milk
- 1 tsp. vanilla or almond extract
- 2-5 ripe medium plums, thinly sliced (depending on size)
1. Heat the oven to 375 degrees.
2. Stir together all dry ingredients (except the sugar)
3. In a seperate bowl, whisk together butter and 3/4 cup sugar until fluffy. Whisk in the egg and extract.
4. Alternating with the milk, whisk the flour mixture into the butter mixture (mixing in 1/3 of the flour at a time).
5. Once well combined, pour into a greased (and lightly floured) 8 inch cake pan.
6. Spread sliced plums across top in a circular pattern. Sprinkle with 2 tbl. sugar.
7. Bake for 35-40 minutes, or until golden brown. Cool before serving.
Enjoy!