Have you ever tried a new recipe and thought to yourself, "why have I never made this before?" Upon realizing that it takes half the time and half the cost of a quick trip to the grocery store to pick up the pre-made version, you've fallen in love with the homemade process. That is excactly how I feel about this hummus/ pita combo.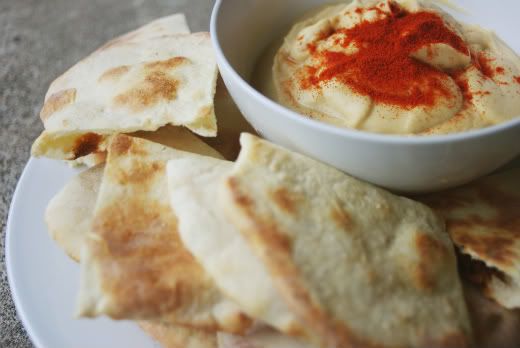 homemade hummus
Tahini is essentially ground sesame seeds, and can be found in the Middle Eastern or "Ethnic" aisle in any supermarket. A stable in many Middle Eastern dishes, it's a suprisingly versatile purchase.
1. Drain the chickpeas and retain 1/4 cup of the can's liquid.
2. In a blender, combine the chickpeas, retained liquid, 4 tablespoons of lemon juice, 1.5 tablespoons of tahini, 4 cloves of garlic
(2 if you prefer a milder flavour)
, 1/2 tablespoon of salt and 2 tablespoons of olive oil. Blend until smooth.
3. Right before serving, sprinkle with paprika.
For the homemade pita, I
adore
this charming
instructional video
. (I placed the covered bowl of dough on top of the warming oven and it only needed 20 minutes to rise).