Thinking about it, this post probably won't challenge any Canadian stereotypes. It has nothing to do with dog sledding to work, or snowshoeing back home to my cozy igloo. Instead, it's about the (scrumptious) moose we had for dinner tonight. Moose roast on a bed of garlic mash, with roasted asparagus, to be precise.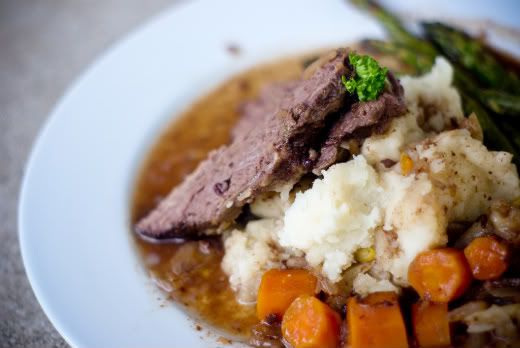 It was a first for me. Moose tastes just like beef- with a little extra sweetness. A while back, a family friend of Tyron's had just come back from a hunting trip. I suppose he had a little extra, and we received a 4 lb. moose roast. (And if you're feeling adventurous, it's got my full recommendation!)
The mash recipe came from Martha Stewart. Her cookbook didn't quite get to moose, so we went to
wildliferecipies.net
. The asparagus are a favorite on mine. Drizzle with olive oil, s&p, and bake at 400 degrees for 15-20 minutes. So easy and so tender!
For dessert? Tyron crumbled peanut butter cups on chocolate frogurt. I'm scraping the bowl as I type; we're suckers for anything peanut butter.