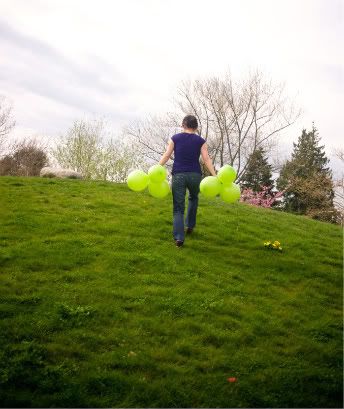 It's funny how sometimes, the littlest details can make all the difference. Take the bowl of colourful hairbands at the yoga studio, just in case you forgot your own. Or the jar of lollipops, in guessable flavors written in Japanese, that are offered as you leave a new restaurant. Or even the proverbial toy in the cereal box (pog slammer anyone?) that makes an ordinary bowl something much more thrilling.
Yesterday, that detail was a grouping of six helium balloons, picked up last minute at the loal Dollarama for a little photoshoot. (Which I am so excited to share next week due to the
unexpected
models!) There's something about the sight of helium that lifts my spirits and creates a feeling of relaxation and ease. For a recent photoshoot (pictured above) a few self-blown balloons created laughter and big smiles, perfect for the camera. I'm certainly not a comedian, so it's those little things that seem to carry an overtone of pure joy that help so much in my little line of work.
It got me thinking, on this early Sunday morning as I prepare for today's shoot, how I need to work at extending those little things to the ones I love. We've all recieved little suprises that lift our spirits in ways routine birthday songs may not. It's just a matter of making it happen.