I made a little
resolution
to limit my sweet tooth, but the question is, do birthdays count? Not mine, but those of friends. Two in one weekend to be exact. Cakes, candies and sugary drinks. What is a birthday without them? And I was just being a good (and very very happy) guest. Right? :)
Needless to say, I felt a little obliged to make up for it on Monday. I had a plump eggplant sitting in my fridge, and this seemed to do the trick. Enjoy!
Grilled eggplant with fresh herbs and goat cheese.
Feel free to modify the given amounts to fit your tastes.


1
.
Slice
a large
eggplant width wise. If needed, quarter those pieces.
2. In a perfect world, throw the slices on the barbecue to grill, but a medium-hot pan with a drizzle of olive oil works just fine.
3. Sprinkle salt and pepper on each side and cook until light brown.
4. Place the slices side-by-side to cover the serving plate and sprinkle with goat cheese (feta can be substituted), 1/4 cup chopped fresh basil and 1 tbsp. fresh mint leaves.
5. In a small dish mix 1 part balsamic vinegar, 1 part olive oil (I used 1 tbsp.) with salt and pepper. Drizzle over eggplant.
6. Serve immediately.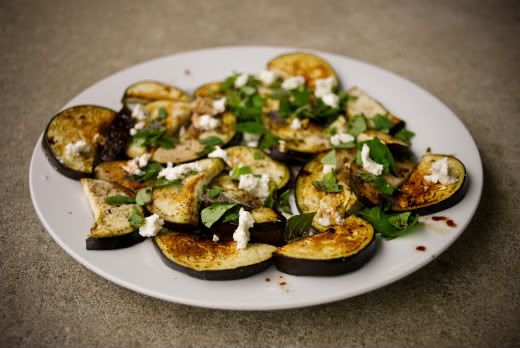 ps. For new readers (welcome!) there's a
little giveaway
going on. The winner will be drawn this Friday. Good luck!