Today marked day one of experimenting with new veggies. We came home with bags full of vegetables, and I decided to start with beet greens. Honestly, prior to today, I didn't think that a beet's green stalk was edible. Now, I'm in love. This is going in my favorite-recipes-ever stainless steel recipe card holder that Tyron made me. It's that good.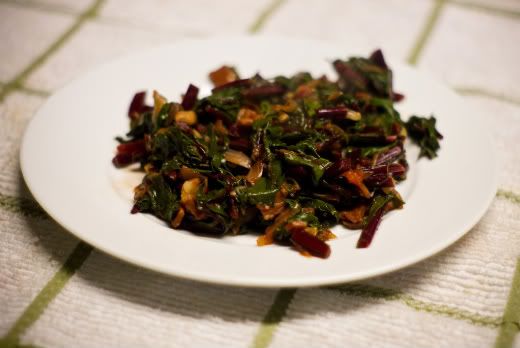 Beet greens with prosciutto
Side dish for 2.
- 3 beets' stalks and greens
- 1 slice of prosciutto, diced
- 1/2 onion, diced
- 1 garlic clove, minced
- 1/2 cup of water
- 1 1/2 tbsp sugar
- 1 tsp chili powder
1. Cut the greens half-way up the stalk and wash the greens thoroughly. Chop the leaves into bite-sized pieces. Chop the stalk into 1 inch pieces.
2. Over medium heat, cook the prosciutto, onion and beet stalk until the onion browns. (If not using a non-stick pan, add a tbsp. of olive oil)
3. Add the water, sugar and chili powder. Allow the water to boil.
4. Add the greens, and stir to coat.
5. Cover the pan and cook over low heat for 7 minutes.
6. Add salt and pepper to taste.