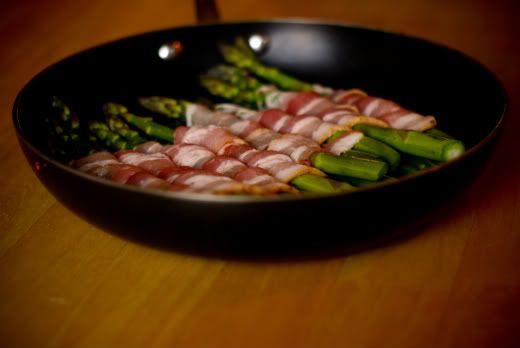 What can I say? I love bacon. Truth be told, it's the primary reason for why I could never be a vegetarian (that and southern-style pulled pork) but it is something best kept for special occasions. Like Sunday mornings where you can sleep in until noon, slip into something cozy and lazily spend the early afternoon in the kitchen. Or, in my case, a tasty way to usher in a new Summer.
Asparagus wrapped in bacon is a cinch to make! Last night, Tyron and I had a few friends over for dinner, and judging by its reception, the side dish worked out quite delightfully.

Asparagus wrapped in bacon
1. Wash the asparagus. Then, pinching the bottom end and the middle, bend and snap off the rough end bit.
2. Using a pastry brush, brush the asparagus with a little olive oil mixed with a little salt and pepper.
3. Working in groupings of three asparagus pieces, wrap a piece of uncooked bacon from just under the spear around and around towards the bottom of the bunch.
4. Tuck the ends under the back and arrange on a frying pan.
5. Cover the pan with a lid, Over medium-high heat cook the bundles for 12-15 minutes until the bacon is ready. (Check and turn the bundles every 4 minutes or so).
6. Place the bundles on a plate covered with paper towel to absorb extra oil.
Enjoy!